Stillness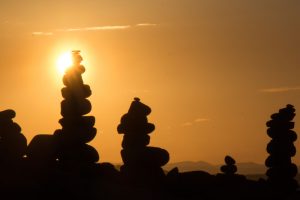 At times, living in a culture that pushes forward continuously and automatically, we all have to deal with the effects of exhaustion on multiple levels.
In the land of the plenty and amidst this mindless bustle, we can loose our inner compass easily and we pay a high price. The faster the hamster wheel turns, the less we are in touch with what we feel or where we really want to go to.
We can miss the signs and pointers that we have to slow down. Often, this is a time when our body and soul cannot rectify the imbalances anymore, but start to produce slightly more severe warning signs.
I would like to invite you to dare to stop the wheel from time to time. When we establish a daily discipline of breathing – sitting – attending to the inner, we take part in a 'download' of our experiences. Whatever has come towards us can find the space to be processed by us and be seen by our higher consciousness. Here is a video of Thomas Hübl, Austrian mystic and spiritual teacher.
I am a great believer in little steps. From my own experience, and from what I have seen in my practice, slow processes are deep processes. I find that, with spiritual practice, it is much better to start with very little steps and not overwhelm yourself. Try to incorporate little rituals into your daily life that you can really achieve. Little moments of achievement and success can give us great confidence and motivation to change habits and patterns with which we sabotage ourselves or put ourselves down.
Sitting in stillness, call it meditation, mindfulness or whatever, is a practice which will help you to find your centre and help you to better cope with whatever challenges come your way.