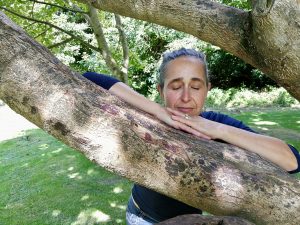 Sitting in stillness, listening in to yourself is a practice that gives you a better chance to maintain your inner balance.
When I firstly started to do this I felt such an inner restlessness and resistance, – I was on the verge to say many times 'Oh, that's really not for me!'
I think my inner saboteur was in great action as I was discovering something very important, maybe even life-changing.
I kept on trying over many years, sometimes just reading up on different spiritual teachings and instructions, sometimes with teachers who gave me their version on how it is done.
The more I am used to sitting in the space of here and now, the more I am able to persevere. It is like everything you want to learn, you've got to practice.
There are good days and there are bad days and that is ok. It is the journey and not the destination that is at the centre of this discipline.
In the practice of stillness and meditation your mind can gently become focused and quiet as you enter into a state of really being with yourself. You can move beyond your thinking mind and enter a more expansive state in which you can connect to your true inner wisdom. This will put difficult experiences and situations into a slightly different light and in my view it will help you to become much more resilient psychologically.
In fact in many recent studies meditation has been demonstrated to have positive physical and mental effects. It decreases anxiety, improves depression, and reduces the frequency and intensity of panic attacks. It improves high blood pressure and helps with various painful disorders, just to mention a few benefits.
Here is a video of Thomas Huebl, talking about the healing potential of meditation.